Whatever happened to
Baby Jean after 1939?
During our 2002 summer vacation we picked up an old, weekly news magazine -- Pathfinder -- at an antique shop in Butte, Montana. We found an interesting story in the magazine, about the Royal Fraternity of Master Metaphysicians and their experiment to raise a baby girl, Baby Jean, to be immortal. Dowling College now owns the mansion that once housed the Royal Fraternity of Master Metaphysicians.
01 October 2002 Update:
I checked with people who know Baby Jean. She is alive and well, married, and has children of her own. But she prefers to remain a private person and does not seek attention about her early years as Baby Jean. We're honoring her request, and closing the mystery with a conclusion that all is well, and a wish for the very best to her and her family. JVF.
This article is from Pathfinder – A News Review of World Affairs, Washington, D.C., December 9, 1939, Number 2397. The Pathfinder Publishing Company, Pathfinder Building, Washington, D.C. Page 11.
Experiment in Immortality
For years, Idle Hour at Oakdale was one of the most luxurious of the many luxurious mansions on Long Island. Built in 1901 by the late multi-millionaire W. K. Vanderbilt at a cost of $2,500,000, it had 110 ornately furnished rooms.
Last year, after Idle-Hour had become rather run-down, James Bernard Schafer, leader of a religious cult known as the Royal Fraternity of Master Metaphysicians, bought it for $350,000, raised by "Love gifts" from his followers. Renamed Peace Haven, it was turned into an "auxiliary home" for those disciples, between 50 and 100 of whom always live there.
Outsiders have been able to learn little about the R. F. of M. M. Its creed has been described as a mixture of Christian Science, faith healing, and Rosicrucianism, among other things. Its members -- who greet each other with "Peace" (like the followers of the Negro mystic Father Divine) -- are classified as Truth Students, Adepts, and Master Metaphysicians; after about a year and a half of study, beginners (Truth Students) become experts in the faith (Master Metaphysicians). The number of its' members is not disclosed. Said Schafer last year: "Our organization is unorganized. You can't define a thing like that" Then he added: "People think we're a lot of nuts."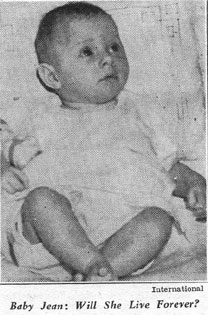 Last week, Schafer revealed that a unique experiment was under way at Peace Haven. There, the cult was rearing a child for bodily immortality.
The experiment began three months ago. From an indigent couple who were allegedly starving themselves to feed it, Schafer obtained custody of a red-haired, blue-eyed baby girl, Jean Ganutt, then three months old. Immediately, Baby Jean -- whom Schafer is planning to adopt legally -- began attending classes in metaphyslcs "to get the atmosphere." Schafer's idea was that if "destructive thoughts" are never allowed to enter Baby Jean's mind, she will never die.
Baby Jean's education for immortality will be unique. She will be made a vegetarian. She will learn that there are such things as meat, cigarettes and liquor, but she will be taught to shun them as destructive. She will also learn that there is such a thing as death, but will be taught that it is not inevitable.
Quoting the Bible: "The last enemy to be overcome is death." Schafer felt confident last week that Baby Jean would do so. "A baby has an empty brain." he said. "We'll keep impressing on it the beauty of life and the side of life that we are trying to live. If the child doesn't think anything that's bad or destructive it can't be torn down."
---