Revised Monday, 03 November, 2014
License Plate Code for
Montana Counties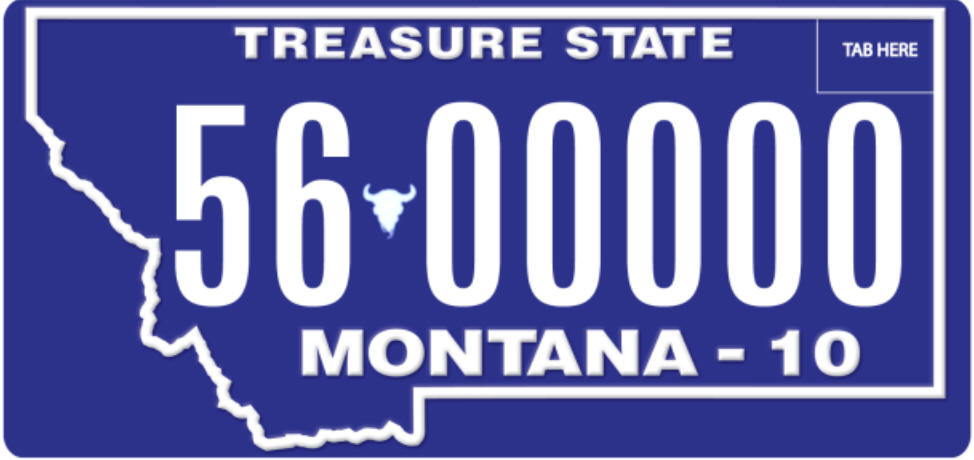 County numbers were originally assigned based on most populous to least populous counties; sequence numbers were assigned about 1930 and have not changed since then.
A plan was proposed in the 1999 Montana Legislature Session to change things, but it was defeated. An interesting update appeared in The Billings Gazette on 02 may 2014, showing what the county-number designation would be if 2010 census data were used instead of the 1930 data. Click here for the Billings Gazette story
This site shows the state map and the ID number that goes with each county... like a 7-1234 license plate means the car is from Flathead County, where Kalispell is the county seat.
License Plates by Transportation Commissioner district and County Seats.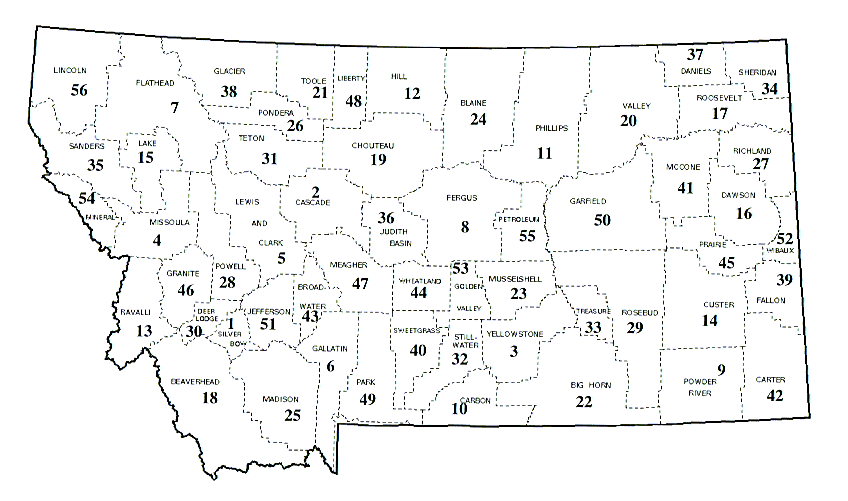 ---
Automobile License Numbers for Montana's Counties
Information Courtesy Of Montana Highway Patrol
| | | |
| --- | --- | --- |
| County Number on License Plate | County Seat | County name |
| 1 | Butte | Silver Bow |
| 2 | Great Falls | Cascade |
| 3 | Billings | Yellowstone |
| 4 | Missoula | Missoula |
| 5 | Helena | Lewis & Clark |
| 6 | Bozeman | Gallatin |
| 7 | Kalispell | Flathead |
| 8 | Lewistown | Fergus |
| 9 | Broadus | Powder River |
| 10 | Red Lodge | Carbon |
| 11 | Malta | Phillips |
| 12 | Havre | Hill |
| 13 | Hamilton | Ravalli |
| 14 | Miles City | Custer |
| 15 | Polson | Lake |
| 16 | Glendive | Dawson |
| 17 | Wolf Point | Roosevelt |
| 18 | Dillon | Beaverhead |
| 19 | Ft. Benton | Chouteau |
| 20 | Glasgow | Valley |
| 21 | Shelby | Toole |
| 22 | Hardin | Big Horn |
| 23 | Roundup | Musselshell |
| 24 | Chinook | Blaine |
| 25 | Virginia City | Madison |
| 26 | Conrad | Pondera |
| 27 | Sidney | Richland |
| 28 | Deer Lodge | Powell |
| 29 | Forsyth | Rosebud |
| 30 | Anaconda | Deer Lodge |
| 31 | Choteau | Teton |
| 32 | Columbus | Stillwater |
| 33 | Hysham | Treasure |
| 34 | Plentywood | Sheridan |
| 35 | Thompson Falls | Sanders |
| 36 | Stanford | Judith Basin |
| 37 | Scobey | Daniels |
| 38 | Cut Bank | Glacier |
| 39 | Baker | Fallon |
| 40 | Big Timber | Sweet Grass |
| 41 | Circle | McCone |
| 42 | Ekalaka | Carter |
| 43 | Townsend | Broadwater |
| 44 | Harlowton | Wheatland |
| 45 | Terry | Prairie |
| 46 | Philipsburg | Granite |
| 47 | White Sulphur Springs | Meagher |
| 48 | Chester | Liberty |
| 49 | Livingston | Park |
| 50 | Jordan | Garfield |
| 51 | Boulder | Jefferson |
| 52 | Wibaux | Wibaux |
| 53 | Ryegate | Golden Valley |
| 54 | Superior | Mineral |
| 55 | Winnett | Petroleum |
| 56 | Libby | Lincoln |
Revised Monday, 03 November, 2014